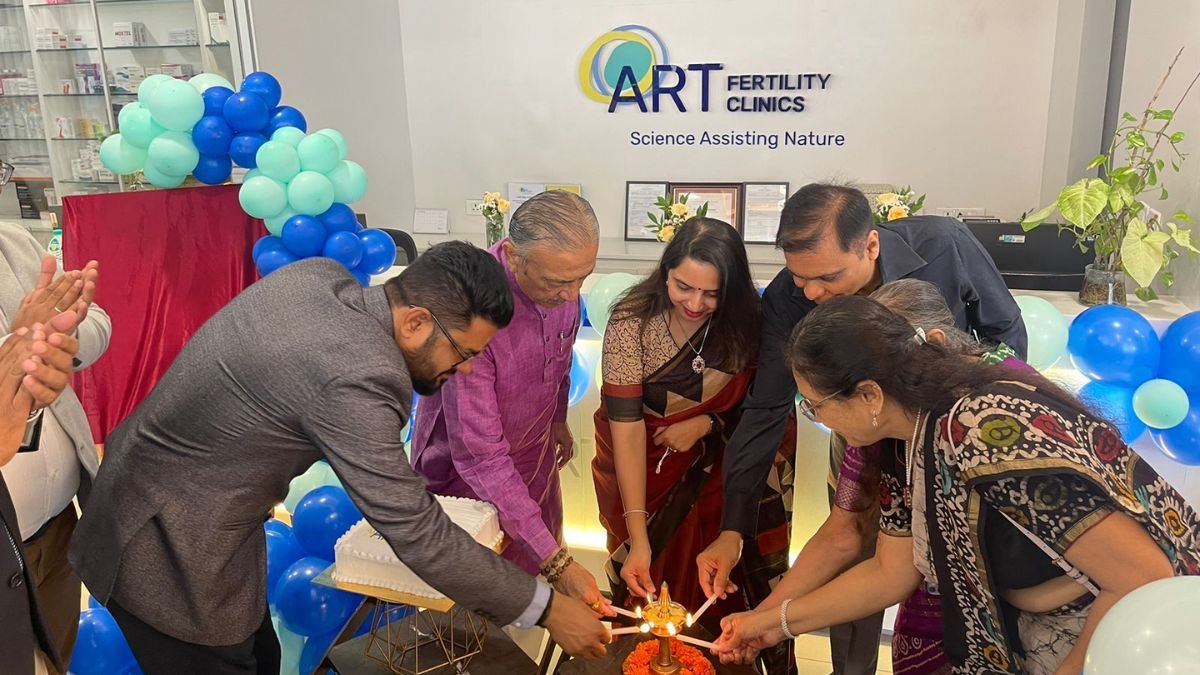 Ahmedabad (Gujarat) [India], October 26: ART Fertility Clinics, a leading global institution in Assisted Reproductive Technologies and Human Reproductive and Medicine, is delighted to introduce a time-limited festival offer on In Vitro Fertilization (IVF) treatments. Through this special promotion, ART Fertility Clinics is enhancing the affordability of IVF for individuals in need, underscoring their commitment to supporting patients on their path to parenthood.
This launch will be addressed by Shri Narhari Amin, a member of the Indian Parliament and Director of Hirmani School, Ahmedabad. He has previously held positions as the President of the Gujarat Cricket Association and as the Vice President of the Board of Control for Cricket.
Fertility treatments frequently come with a substantial financial burden, which can deter many couples from pursuing IVF to realize their dreams of parenthood. Acknowledging this obstacle, ART Fertility Clinics, a renowned global leader in infertility management, is pleased to introduce exclusive discounts on IVF treatment packages.
Lucky Draw Discount Details – 
1st Winner – Get 100% refund on IVF cycle amount. (Valid for 1 winner) 
2nd Winner – Get 50% refund on IVF cycle amount. (Valid for 2 winners)
3rd Winner – Get 25% refund on IVF cycle amount. (Valid for 3 winners)
This time-limited promotion reflects ART Fertility Clinics' commitment to expanding access to advanced fertility treatments for a wider spectrum of patients in Ahmedabad, Gujarat.
"We understand that the cost of IVF treatment can be a significant concern for many patients," said Dr. Somesh Mittal, Chief Executive Officer, ART Fertility Clinics, India "Our goal is to ensure that financial considerations do not stand in the way of someone's path to parenthood. This special promotion is a reflection of our commitment to providing high-quality and advanced fertility care with a focus on affordability to the people of Gujarat. Soon, the expansion of ART Fertility Clinics, in different parts of Gujarat will enhance our ability to meet the growing demand for fertility services while maintaining the highest level of care and support for our patients."
Adding to that, Dr. Azadeh Patel, Clinical Lead, ART Fertility Clinics, Ahmedabad said "Under the guidance of world-renowned fertility specialist Prof. Dr. Human Fatemi, Group Medical Director, ART Fertility Clinics, and state of the art facilities in our Embryology lab; our experienced team of fertility specialists here in Ahmedabad has a track record of successful IVF Treatments along with a mission to provide compassionate and personalized care to each patient. They can be assured that they will receive the highest level of care and support throughout their fertility journey at ART Fertility Clinics."
This limited-time offer is available until 31st December 2023. Interested couples are encouraged to schedule their complimentary initial consultation with our fertility specialists to discuss their specific needs. 
To learn more about this limited-time IVF discount offer, please visit our website, www.artfertilityclinics.com or contact our clinic directly on +91 7303653646 to schedule your appointment. 
About ART Fertility Clinics: 
ART Fertility Clinics has established itself as a global leader in Assisted Reproductive Technology and Human Reproductive Medicine. It is highly recognized worldwide for consistently delivering a pregnancy rate of 70% globally, amongst the highest in the world. This success has been possible because of its international expertise, clinical excellence, and relentless commitment to fundamental research, driving innovations, using cutting-edge technology, and building the best-in-class infrastructure that helps create proprietary protocols for patient diagnosis and treatment.  
ART Fertility Clinics commenced operations in 2015, with its first clinic in Abu Dhabi. It began its India journey in 2021. Currently, a part of Gulf Capital's portfolio of invested companies, the brand has 4 clinics in the Middle East (Abu Dhabi, Muscat, Al Ain, and Dubai) and another 6 in India (Delhi, Gurugram, Mumbai, Ahmedabad, Hyderabad, and Chennai). In addition, it plans to open 20 more clinics in India, other parts of Asia, and Europe within the next 18 months. To know more, visit ART Fertility Clinics' website and on Instagram, Twitter, and Facebook.
If you have any objection to this press release content, kindly contact pr.error.rectification[at]gmail.com to notify us. We will respond and rectify the situation in the next 24 hours.