The startup played a key role in ensuring the G20 Leaders' Summit, which had over 30 heads of state and international leaders, went off without a glitch.
New Delhi (India), October 12: PARK360, a Surat-based startup specialising in Smart Parking and Authorisation Solutions, played a key behind-the-scenes role in the smooth conduct and success of the recently held G20 Leaders' Summit in New Delhi.
The event, held on September 9 and 10, witnessed the gathering of more than 30 heads of state and international leaders, making access control and authorisation a critical aspect. This kind of gathering was the biggest of its kind in not just India, but the whole of South East Asia. PARK360 was selected to provide access control for the movement of people and vehicle authorisation for those attending the Summit, and its innovative solutions ensured the event went off without a glitch.
PARK360's selection to manage access control for the G20 Leaders' Summit was based on its exemplary track record and outstanding service. The startup was tasked with creating a secure technology-based ecosystem to control access for every visitor and vehicle in compliance with protocols and guidelines. Its system was used for authorising arrivals through the main gate of the meeting venues.  
Sanchit Gaurav, CEO and Co-founder of PARK360, said, "It was our privilege to have been selected to provide access control and authorisation services for the G20 Leaders' Summit and we are thankful to our partners who collaborated with us for this high profile event. It was a monumental task, given the presence of global leaders and the scale and importance of the Summit. We are glad with how well the whole system functioned during the event, and we could complete the high-profile assignment successfully."
Elaborating on the challenges they faced during the assignment, Mr Sanchit said, "We were initially tasked with setting up an on-site demo for the concerned officials, during the first such demo, we received instructions to display visitors' faces on dual side screens at every entry/exit lane after QR scanning. Despite the tight timeline, our team designed and tested the new solution within a week for the second demo, which received the green light from all the security & govt agencies."
PARK360's team collaborated closely with security agencies at zonal and central command centers, ensuring real-time reporting and adherence to authorisation protocols. Its access control system received positive feedback and appreciation from the Ministry of External Affairs, security agencies, and national & international leaders, a matter of pride for the startup. Prime Minister Narendra Modi also stayed at its access point, inspected its system, and got the necessary information from the security agencies.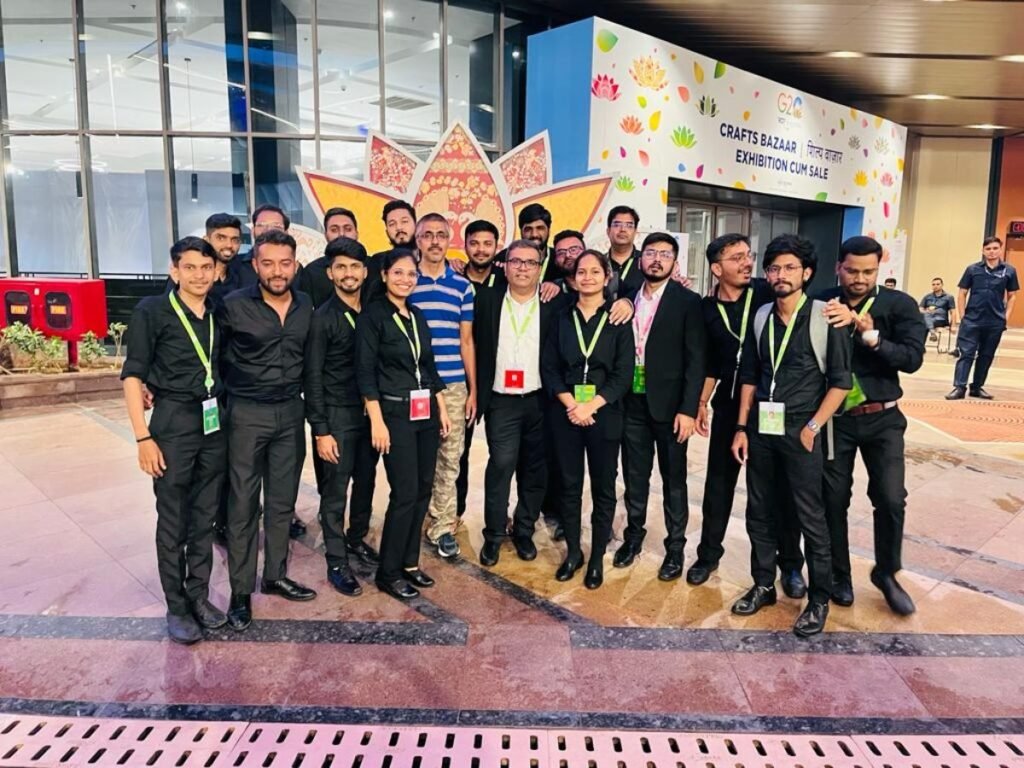 Notably, YouTube blogger Gaurav Chaudhary, who runs the popular channel Technical Guruji, featured the startup's system in his vlog, further highlighting its effectiveness and innovation.
PARK360 has implemented successful projects for government and various private clients within a year after it pivoted its focus on marking and authorisation management solutions in 2022. Its clients include Bandra Kurla Complex in Mumbai, Bhabha Atomic Research Centre in Mumbai, Konark Temple in Odisha, Jatayu Earth Centre in Kerala, JLL Kolkata & Mumbai, Viceroy Builders in Mumbai, Bangalore City Station, Bosch Headquarters in Bangalore, Infocity, Gandhinagar and many more.
PARK360's achievement is especially significant considering it comes from Surat, a city known the world over for its textile and diamond industries but not as much for IT or technology. The platform offers multiple integrated services under a single umbrella and boasts a 100% annual renewal rate among its clients.
PARK360 was launched in 2021 as a SaaS-based product for complex management under the brand name myCiti (myciti 360 Technology Services Pvt Ltd) by Sanchit Gaurav and Co-founders Satish Nair and Suhas Arora.
For more information, please visit https://park360.io/