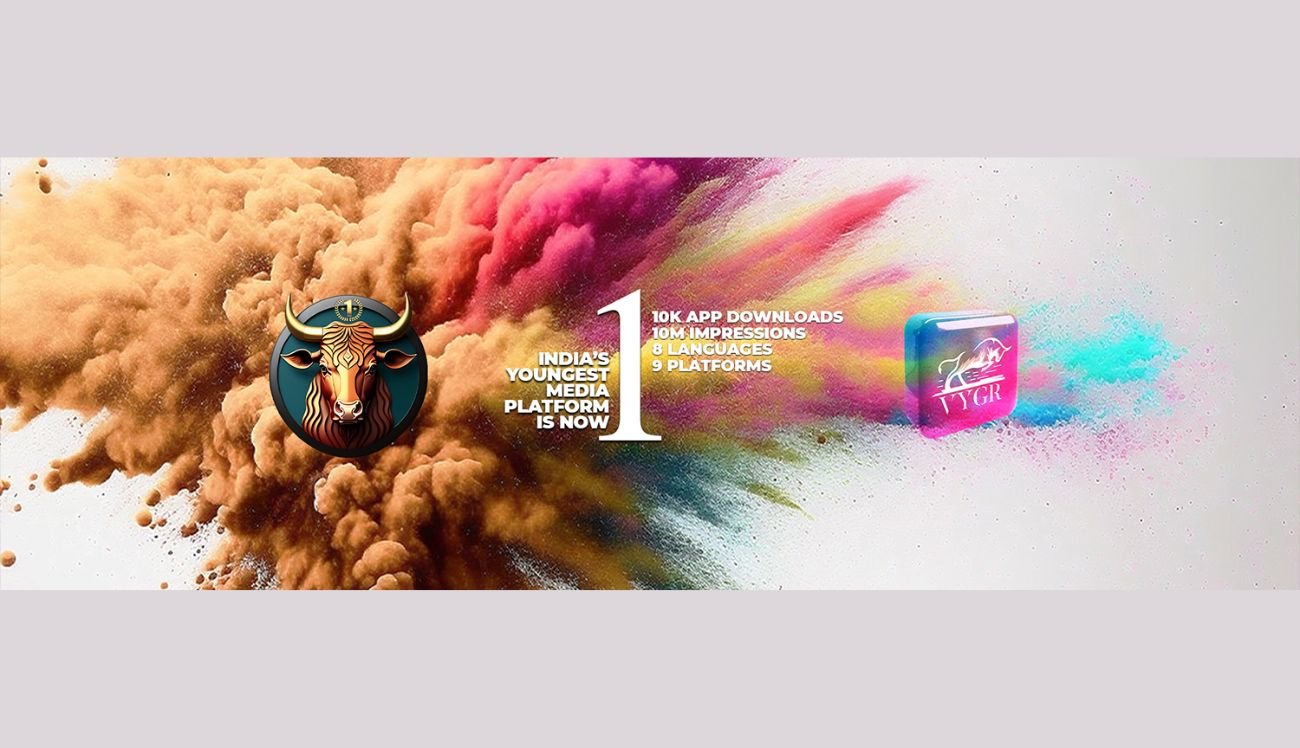 Vygr, a dynamic News Media Brand from Vygr Media Private Limited, celebrates its 1st anniversary, marking a year of remarkable growth, 10 million impressions, and innovative news dissemination, while emphasizing its commitment to serving the Indian public with unbiased, hyperlocal news tailored to the new generation.
Mumbai (Maharashtra) [India], August 25: Vygr, a leading News Media Brand from the house of Vygr Media Private Limited, is proud to announce the celebration of its 1st anniversary. Since its inception in August 2022, Vygr has been committed to giving immense purpose, speed and credibility to the creation & dissemination of New Gen-oriented News Content and Information, this milestone stands tall as a mark of a momentous journey of growth and success.
Over the past year, Vygr has grown from a startup to a prominent player in India's News Media and Informational Content landscape. Through unwavering dedication and a relentless pursuit of excellence, the platform has successfully made over 10 million impressions, 4000+ hours of content, 10K app downloads, catering to about 6 languages, available on 9 platforms and expanding physical on-ground presence in over 3 states and counting.
Vygr's commitment to innovation has been at the heart of its growth. It aims to work on aims to work on: One Content – Synchronized Outreach (The COCE Method) to consolidate all News and Information content in One Centralized Repository, customize it to the needs and liking of the audience of each platform and enable the disseminator to spread the content to all proprietary platforms and official social media handles at the same time.
All topics from light-hearted content in the form of Fashion, Arts, Culture, and Entertainment to seriously written editorials, Brand segments and opinion pieces have been a part of Vygr in the last year – making it a fast-growing, free, one-stop, go-to name across any platform of the reader's choice.
At this important juncture, Ms Sonam Bhagat, Founder & CEO – of Vygr News and Vygr Media Private Limited stated, " What started as a mission to do something to change the informational landscape around me, has over the past 1 year turned into a purpose for so many others. From a startup, we are now a scaleup. As I reminisce about the last 1 year – I look forward to many more such. Thank you for being a part of the Vygr journey. I wish all of us many more and I wish we can serve our nation with the true value of being its empowered citizens. 
We have the understanding that Human Intelligence far surpasses the tools it creates – including the latest one being Artificial Intelligence. Empowering Indians with this belief is something we at Vygr consider our responsibility. And I hope and truly wish we can deliver what we have promised."
Mr Abhishake Das, Head of Content- Vygr and Founding Team member, mentioned, "My last years in advertising went shouting at clients, asking them to pivot full-time to content. Few smart ones understood, and most didn't. They didn't get the scope of content or how it's a critical business asset to any brand in the mediascape we live in today. 
Sonam understands that; she understands how, through content, you can carve your niche. Even in a seemingly overwhelming & saturated vertical like News, good, relatable, snackable content can still help you build your audience. It's been a year of hard work, team building and learning."
In celebration of this significant milestone, VYGR has plans to reach its readers' favourite platforms and devices with its speed and accuracy through various upcoming projects and community initiatives as a way to give back to the community that has supported its growth. The anniversary celebrations will also provide an opportunity to reflect on the company's journey, acknowledge the contributions of its employees, and strengthen its partnerships with clients.
Join us in celebrating India's first Youngest, Democratic, Unbiased, Hyperlocal, By the People, To the People, For the People News Platform.
Contact Information:
Vygr Media Private Limited
+91 87798 60147
www.vygr.in | www.vygrnews.com 
If you have any objection to this press release content, kindly contact pr.error.rectification[at]gmail.com to notify us. We will respond and rectify the situation in the next 24 hours.