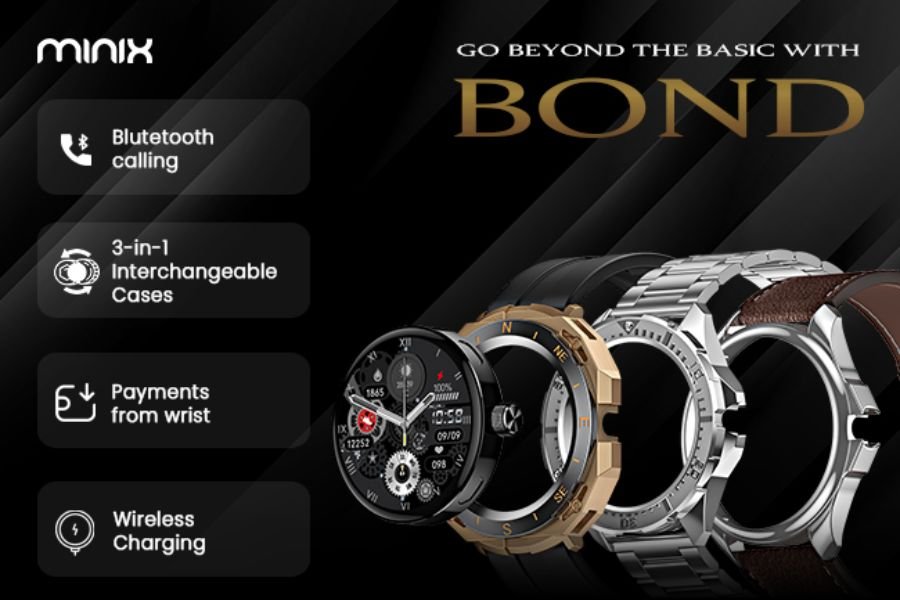 Minix Bond's Unique USP of Interchangeable Casings Offers Unprecedented Design Flexibility
New Delhi (India), August 19: With these sophisticated devices smoothly merging into our daily lives, the smartwatch sector is experiencing unparalleled growth. Smartwatches have become indispensable companions for people of all ages, from hectic streets to fitness centres and boardrooms. This increase in popularity can be ascribed to their perfect combination of technological innovation and practical utility, which has transformed them from simply timekeeping gadgets into versatile instruments that have redefined how we interact with our surroundings.
Introducing the Minix Bond, an innovation that elevates the concept of a smartwatch by seamlessly merging design and functionality. The 1.35-inch Alloy Display on this gorgeous wearable keeps you connected to your fast-paced existence while also adding a touch of sophistication to your regular wardrobe. Its IP67 water-resistance designation makes it suited for a wide range of settings, from outdoor adventures to everyday use. The collection mode on the watch allows users to organise alerts and prioritise what is most important, putting them in control of their notifications.
The inclusion of three interchangeable watch cases identifies the Minix Bond timepiece as a truly exceptional selling point (ESP). This clever innovation provides consumers with a smooth and varied way to customise the appearance of their watch to properly match any given setting. This distinctive feature stands ready to provide the right visual complement whether one is involved in a formal event demanding elegance, travelling out for a leisurely informal excursion, or fully engrossed in a tough physical training session. The Minix Bond goes beyond traditional clocks by seamlessly adjusting to the wearer's different situations, delivering not only functionality but also a touch of personal style for any imaginable occasion.
The Minix Bond also excels in the areas of health and fitness. Its extensive health-tracking tools provide real-time insights, allowing users to precisely monitor their health. With its remarkable roster of over 100 sports modes, the watch seamlessly adapts to an active lifestyle, assisting users in optimising their workouts and achieving their fitness objectives. The 1.35-inch Alloy Display provides a vibrant and colourful interface, while wireless magnetic charging offers speedy battery top-ups in just three hours.
Aside from its outstanding features, Minix Bond symbolises a brand dedicated to innovation and personalised experiences. Minix, founded by Siddharth Gurjar, is committed to creating smartwatches that blend cutting-edge technology with unparalleled design. "At Minix, we consider our watches to be more than just accessories; they are trusted companions who accompany you on every step of your journey," Gurjar says. This dedication to perfection is reflected in the watch's excellent customer reviews and satisfaction, establishing its position as a real companion for those seeking a blend of flair and utility.
Accept the Minix vision and engage in unprecedented innovation. Time exceeds its usual confines with the Minix Bond, allowing you to make every moment really extraordinary. Experience the smartwatch of the future, where refinement meets functionality.
If you have any objection to this press release content, kindly contact pr.error.rectification[at]gmail.com to notify us. We will respond and rectify the situation in the next 24 hours.