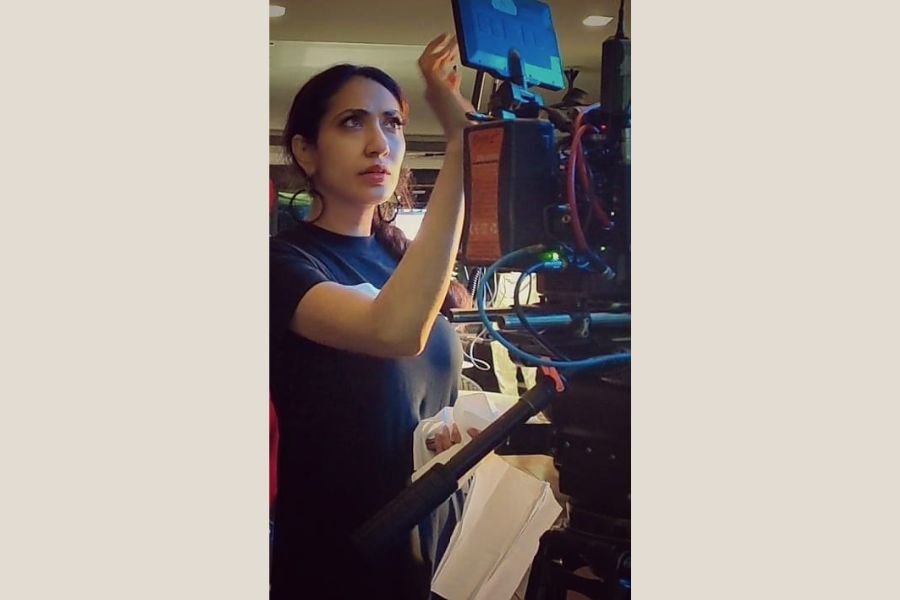 New Delhi (India), July 29: The much loved Sanju Baba will be seen in Prerna Arora's upcoming action thriller that is slated to go on floors in November.
Whether it was the thriller Rustom, the message oriented Toilet: Ek Prem Katha or the mysterious Pari or Padman which touched upon a serious social subject, Prerna Arora, the wonder woman who never fails to surprise her fans and audience is back to serious business of entertaining the people with her action thriller. Prerna Arora speaks about her adventurous journey in Bollywood. 
You shot into limelight with her first film 'Rustom' and then there was no looking back. Let us begin with your initial journey. 
How can I forget my debut film into Bollywood as a producer and 'Rustom' shall always remain closest to my heart. It was a dream debut for anyone stepping into the industry and I feel blessed about it. It was the beginning of my career that I was lucky to get mentored from one of the most talented actor Pankaj Kapoorji, who actually believed in me even before Rustom was released. He was like an institution to me who approved my story and backed me. 
Later I happened to come across Kamal Hassan through whom I met Akshay Kumar and from that day my fate changed and the 'Rustom' the film took shape. 
Till that period, it was usually tough for a newcomer with no filmy background venturing into Bollywood, particularly for a female. It were these moments that taught me the values of consistency, perseverance, patience, and belief in oneself.  
Post the success of Rustom there were a string of hits from you. How did this success affect you?
After 'Rustom' it was 'Toilet Ek Prem Katha' and then Pari which was followed by the trendsetter film 'Pad Man', These are gems in my professional career. They are my precious assets and beautiful memories of my career as each of these projects contributed to my growth and learning as a filmmaker. 
As regards to some Judicial cases what is the truth and was it the case of an innocent person caught at the wrong time in the wrong place?
The case made against me was a consequence of my mistake of not properly pursuing the legal documentation, as I trusted people blindly, and unfortunately, someone else (a third person) played foul with me. I believe that divine justice will prevail, and I patiently await its final resolution.
Finally, I am pleased to say that the money dispute are now over, with orders from the Hon'ble Court, as stated in its order dated 04-10-2022. I would first like to extend my heartfelt gratitude to our judiciary system for delivering justice in an unbiased manner.
Has this legal trouble made you wiser?
I refuse to use this opportunity to place blame on anyone else. Instead, I firmly believe in myself and my capabilities to rectify the situation and move forward, leaving everything behind me. As success came my way, I became overconfident and didn't seek guidance from my father or other family members. Pride led me to make errors that ultimately affected my career.  
There is no better way to share the good news of restarting my career and overcoming the adversities that I faced. I look forward to making things better and focusing on a brighter future. 
I will be forever grateful to the judiciary for restoring my faith. I found myself entangled in a case due to a minor oversight on my part, which unfortunately resulted in a major, unavoidable mishap in my life. However, with unwavering willpower, I managed to rise from the downfall and now I am prepared to face the real world and its challenges once again.  
Like every other corporate sector, Bollywood industry too has its share of good and bad people. Would you like to document your experiences of kind hearted people in the film industry?
The first person who comes to my mind is Salman Khan who stood with me and whom I can only describe as a truly great human being that he actually is. I shall always have my best wishes for him because of the kindness and goodness that emanate from him and it is too good to be true. 
It was during my early career that he welcomed me with open arms and gave me work for which I owe it all to him. Even during times when I felt humiliated and broke down in front of him and others, he was incredibly understanding and kind. Instead he advised me to learn from my mistakes and avoid being arrogant. He emphasized that there is no room for mistakes in this industry. He even gave me the opportunity to work on the 'Bollywoodwala' song with Walusha, which I consider myself incredibly lucky for.  
Another gentleman is Kumar Taurani of Tips Music who was equally supportive, never questioning me about past incidents. His love and respect boosted my confidence and helped me grow.
Aishwariya Rajnikanth is one person I deeply admire, and words fall short to describe her compassion, love, and affection. She stood by my side and gave me the opportunity for a pan India release with the song 'Musafir,' and that experience was truly invaluable. 
In my recent times, I have realized another remarkable person in my life – Sanjay Dutt, with whom I have the privilege of working. He has always been there for me, providing unwavering love and support through all the ups and downs. I would say my biggest pillar in my life.
Shivin Narang who is family to me as he gave the support and stood by my side to restart my journey once again. He as an actor gave me the strength to take on the project and complete it with ease. He's been there through out with me and believes in me as much as I believe in him. There is trust and immense gratitude.
Anil Sharma is an absolute gem of a person, and I am grateful for his presence in my life. I wish him all the great success in Gadar 2. 
Jordy Patel, Captain Ramesh Pulapaka and Rahul Shukla these three have been so kind to me, guided me and encouraged me throughout my pillar of strength.
What about your family, friends and relatives?
Of course, I cannot forget to mention my family – my dad, my mom, my younger sister Kussum she has been my fighter through out these tough times and she made be believe my inner strength to fight all odds and to mention my friend Kavita Pandya and Salman Shaikh they've stood with me through thick and thin and all my of friends and loved ones. Their constant support has been the backbone of my journey.
Tell us about your experience while working with the 'Hit machine' Khiladi Kumar.  
Working with Akshay Sir was a transformative experience. He is a powerhouse in the industry, a highly professional actor, a great producer, and a revered name. To work with him, I focused intensely on perfection, driven by a clear vision from the very beginning. 
My bond with Akshay Sir runs deep, and I have immense respect for him. He provided me with invaluable knowledge and tools, and I yearn to work with him again in the future. However, it was when I took a detour outside of our collaborations that led me to make some mistakes. Thinking that everyone in the industry would be like him, which was a misconception, I ventured into new relationships, but it turned out to be a different world altogether. I should have stayed focused and learned more before taking on too much.
What are your observations as regards to being a female producer in the Hindi film industry, and did you face any challenges in particular?
Being a female producer in the Hindi film industry can be a demanding yet rewarding experience. Here are some aspects and challenges that I faced:
Gender Bias: The film industry, like many others, has traditionally been male-dominated. Female producers may encounter gender bias in various aspects of their work, including getting financial support, handling negotiations and being taken seriously in decision-making roles.
Limited Representation: Female producers may find it challenging to get equal opportunities and representation compared to their male counterparts. The industry's preference for male-led projects can make it harder for women to get their projects greenlit and receive the necessary resources.
Networking and Relationships: Networking is crucial in the film industry, and women might face barriers in establishing relationships with key stakeholders, financiers, and distributors due to existing gender biases and traditional power structures.
Balancing Work and Personal Life: Film production involves long hours and high-pressure situations, which can be particularly challenging for women who may also have additional family responsibilities. Balancing work and personal life can be a juggling act.
Investment and Funding: Securing funding for film projects can be difficult for anyone, but female producers might face additional challenges due to stereotypes and biases in the financial sector.
Perceptions and Prejudices: There might be misconceptions about women's capabilities as producers, leading to skepticism from investors and audiences. Breaking stereotypes and proving oneself can be an uphill battle.
Despite these challenges, many female producers have overcome obstacles and made significant contributions to the Hindi film industry, paving the way for future generations. Progress has been made in recent years, with more attention being given to gender representation and inclusivity in the entertainment sector.  
As an individual, do you have faith in God?
Yes, and to begin with, my mother…she is my goddess. I see her as the supreme power, someone who has brought divinity down to earth for my sake. She holds a special place in my heart as my God, and I firmly believe in all the deities she follows, such as Lord Vishnu and Hanuman ji.
My mother always emphasizes the presence of Lord Hanuman as the God of Kalyug, the age we currently live in, and the protector of all beings. To me, reciting the Hanuman Chalisa is like a magical medicine; it brings immense comfort and strength to my soul, and I stand firmly by its power.
I have a deep-rooted belief in God, and I firmly believe that He is always present. In moments when I feel alone or in need of support, I have felt His presence, seen Him guiding me through life's challenges. I owe my life to God and the blessings of my mother, as well as the determination of my father.
My faith in God and the unwavering support of my parents have been my source of strength and resilience. I am grateful for the divine presence in my life, and I cherish the love and guidance my mother provides as she embodies the essence of godliness for me.   
What is your take as regards to the present day content from Bollywood industry?
Now, with the shift in the industry due to OTT platforms and changing filmmaking cultures, I believe theaters will still thrive when great films are made. The audience's appetite for larger-than-life films will always be there, but we need to produce exceptional content to stand out.
I feel that Hansal Mehta's Scoop is a reflection of reality where many innocent women get trapped only because they are successful. He is such a fine director and I feel that Scoop has came in at the right time.
Recent years have seen you go through rough patches. How do you see this phase?
There is politics, hierarchies, egos and a mix of emotions in the industry. But I've learned to embrace the ups and downs, understanding that it's the natural pattern of life.
In conclusion, I cherish my journey from 'Rustom' to my bonding with Akshay Sir. He remains a superhero and one of the best human beings in my eyes. I look forward to the day when I can collaborate with him once again, armed with the knowledge and experience I've gained along the way. 
Do we expect to read your auto-biography some day?
I some times wonder that I'll have to write a book on this or make a prequel, sequel movie to be able to tell the world what exactly happened (the real truth) because words aren't enough … someday I'll definitely speak more than now as right now I want to keep my words very limited. Let my work speak and let my family and me heal.
If you have any objection to this press release content, kindly contact pr.error.rectification[at]gmail.com to notify us. We will respond and rectify the situation in the next 24 hours.