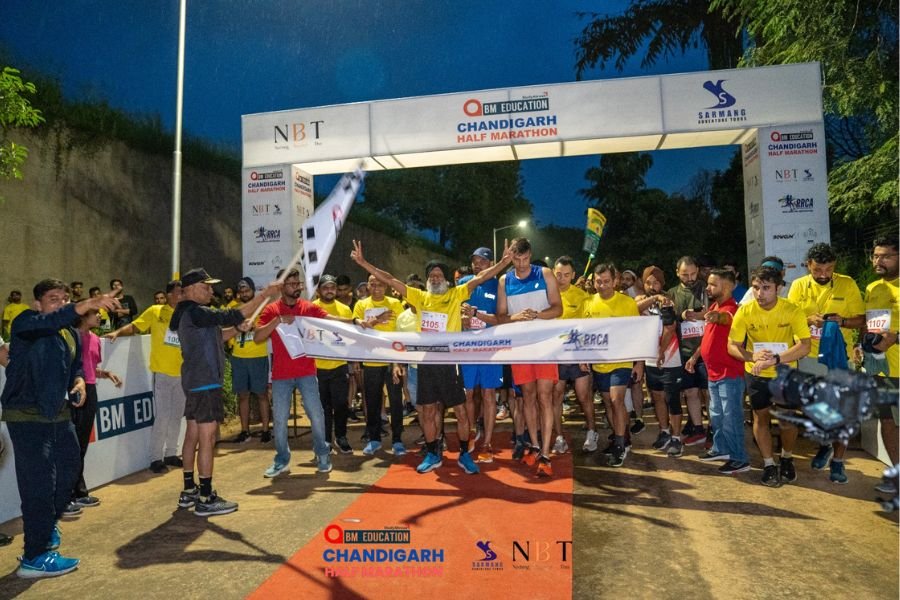 Chandigarh (India), July 22: Sarmang Adventure Tours and NBT are delighted to announce the triumphant conclusion of the BM Education Chandigarh Half Marathon, held on July 16th, 2023. Under the theme "Run Against Drugs, Run for Life," this remarkable event brought together a diverse community of participants who united to promote a healthy lifestyle while raising awareness about the detrimental effects of substance abuse.
The marathon commenced at 4:00 AM, with participants filled with anticipation and determination. The spirited flag-off ceremony at 5:00 AM, graced by the presence of Brig Parvinder Singh, the Commander of NCC Group, Chandigarh, set the stage for an unforgettable journey towards the finish line.
Runners embarked on their chosen distances of 2, 5, 10, or 21 kilometres, each step representing a commitment to a drug-free life and a healthier future. The revised route, featuring a captivating double loop, led participants through the scenic landmarks of Chandigarh, showcasing the city's beauty while reinforcing the message of unity and resilience.
"We are immensely proud of the participants who joined us today, running against drugs and for life," stated Mr. Anil Mohan, RRCA Certified Race Director and the Founder of Sarmang Adventure Tours. "Their enthusiasm and dedication in embracing a healthy lifestyle while supporting the cause were truly inspiring. There was some rainfall prior to the flag-off, despite which the event was conducted very smoothly. It was already released that the heavy rainfall a few weeks earlier caused us to change the route of the half marathon and change it to a double loop from Bapu Dham Chauk. The dedication of participants to complete the race even in the rain made us believe that events like the BM Education Chandigarh Half Marathon can make a significant difference in raising awareness and promoting a drug-free society."  
He specifically expressed gratitude to the administration for allowing this marathon and to the people of Chandigarh for their love and trust.  
The event was not just a test of physical endurance but also an opportunity to honor exceptional athletes who demonstrated remarkable skill and determination. The chief guest Lieutenant General (Retd) Gurpal Singh Sangha, AVSM, SM, VSM, felicitated the winners. The award ceremony, held at 6:30 PM, celebrated the achievements of the following winners across all categories:
21-kilometre Category Winners (Male):
– First Place: 21200 – ANMOL CHANDAN
– Second Place: 21169 – SURENDER MALIK
– Third Place: 21196 – RABIUL ISLAM
21-kilometre Category Winners (Female):
– First Place: 21189 – SNEHA JHA
– Second Place: 21193 – ANJALI RANI
– Third Place: 21112 – PRECIOSA WILK
10-kilometre Category Winners (Male):
– First Place: 10056 – DEEPAK
– Second Place: 10024 – ANURAG HUNDAL
– Third Place: 50329 – Amit Kumar
10-kilometre Category Winners (Female):
– First Place: 10232 – NANDINI SINGH
– Second Place: 10143 – PAYAL SINGH
– Third Place: 10124 – MANU YADAV
5-kilometre Category Winners (Male):
– First Place: 50176 – MOHD ASIF
– Second Place: 50177 – MOHD WASEEM
– Third Place: 50200 – PANKAJ
5-kilometre Category Winners (Female):
– First Place: 50103 – HARNNOR TOMAR
– Second Place: 50196 – OJASWINI NAMJOSHI
– Third Place: 50234 – RISHITA CHHETRI
"We extend our heartfelt congratulations to all the winners and participants who showcased exceptional sportsmanship throughout the event," added Ms. Ravi Kumar, the  Co-founder of NBT. "Their dedication and commitment have made the BM Education Chandigarh Half Marathon a resounding success. We are grateful to be a part of their journey and share their passion for a drug-free and healthier society."
Mr. Himank Arora was particularly struck by the wide-ranging age groups represented in the marathon. The event saw the enthusiastic involvement of children as young as 6 years old, teenagers, adults, and spirited senior citizens nearing the age of 80. This year's marathon made significant strides in promoting inclusivity by ensuring the participation of para-athletes. Among the many inspiring stories that emerged from the marathon, one particular incident stood out.  A woman, despite having a fracture in her hand, displayed remarkable determination and courage as she pressed on and finished the race. As the co-founder of NBT, he understands the importance of events like the Chandigarh Half Marathon in creating a positive impact on individuals and the community as a whole. Such events not only promote physical well-being but also foster a sense of unity, camaraderie, and mutual support among participants.
Mr. Gurphool Singh, a 73 years runner from Dehradun who ran 21 kilometres, shared his inspiring story of how he is running every day at this age. Col. Krishan Singh Badhwar, SM, motivated everyone to live a disciplined life and focused on the importance of health.  
The BM Education Chandigarh Half Marathon served as a testament to the power of unity, determination, and community engagement. By embracing an active lifestyle and advocating against drug abuse, the participants have set a remarkable example for others to follow.
For more information: http://www.nothingbeyondthis.com/ 
If you have any objection to this press release content, kindly contact pr.error.rectification[at]gmail.com to notify us. We will respond and rectify the situation in the next 24 hours.