Nashik (Maharashtra) [India], July 18: The Reseal Market Research and Film Company (reseal.in), a decade-old company specialising in research, branding, media, and films and the preferred researcher for many leading companies in the country, conferred the Maharashtra Business Icon Awards 2023 at a gala function at Nashik on July 8. This was the second day of the prestigious awards that recognised and honoured exemplary businesses and celebrated their success and excellence.
The award ceremony took place at Hotel Radisson Blu and saw industry leaders and luminaries coming together to honour remarkable businesses and individuals across various sectors. The Chief guest was Welcomed by Mr. Ram Shriram – CEO of Mahagram Payments Pvt. Ltd & Mr. Prasad Weljale – Project Manager Reseal.in. Incredibly talented actress and astute businesswoman Miss Tejaswini Pandit, whose achievements in both the entertainment industry and the business world have made her an inspiration for aspiring entrepreneurs and artists alike, graced the event as the chief guest. She presented the awards to the worthy winners along with Mr Sudhir Kumar Pathade, Founder and CEO of Reseal.in, and congratulated them for the honour.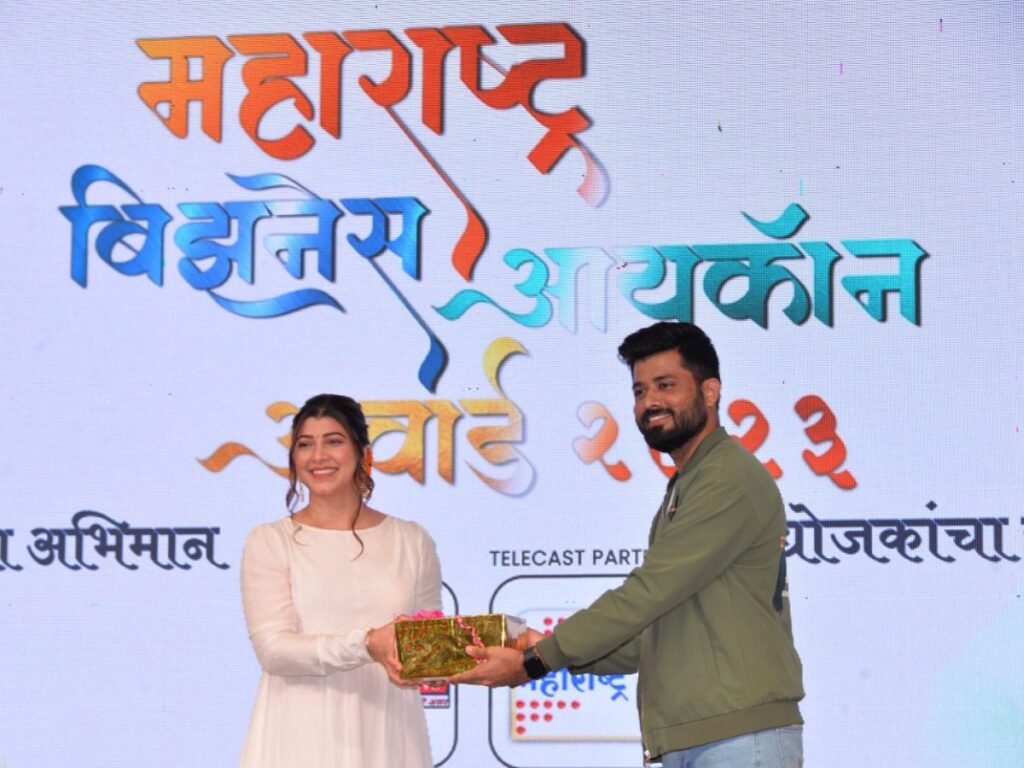 The Maharashtra Business Icon Awards showcased the outstanding contributions and exemplary performances of individuals and organisations in sectors including Education, Technology, Hospitality, Industries, Agriculture, Media, Art, Beauty & Fashion. The winners were celebrated for their achievements and their significant impact on their respective industries.
Speaking on the occasion, Mr. Sudhir Kumar Pathade said, "The Maharashtra Business Icon Awards are our humble attempt to recognise the celebrate the success of individuals and businesses. We are thrilled to bring forth this unmatched opportunity for businesses to transform themselves into recognisable and well-established brands. We are dedicated to helping businesses navigate the challenges and position themselves for success in today's fast-evolving world. We are thankful to businesses and our sponsors for their proud support in making this event a huge success."
The Maharashtra Business Icon Awards also facilitated networking and collaboration among industry leaders, providing a platform for individuals to connect and exchange ideas to further contribute to the growth of businesses in Maharashtra.
The list of the award winners and the categories are as follows:
-One Of The Leading Financial Services & Consultancy Services Provider Company In Akola – Anushree Multi-Services
-One Of The Best Financial Services Provider In Chandrapur – Yehova Yire Bachat Nidhi Limited(Ramesh S. Borkute)
-One Of The Best Spices & Gram Flour Manufacturer Company In Gadchiroli – Hirkani Foods(Nitun Mohurle)
-One Of The Best Import Export Trainer and Coach In Maharashtra – Shubham Rode
-One Of The Leading Super Market In Latur – Sangmeshwar Shivmurti Swami
-Most Popular Makeup Artist And Academy In Kolhapur – Swaranjali Patil More
-One Of The Leading Business Guide Of The Year – Devidas Naikare
-One Of The Leading Non Surgical Hair Replacement Services Provider In Maharashtra – Chakan Hair Wigs
-One Of The Best Physiotherapist & Naturopathist Of The Year – Shree Nature Clinic
-Most Outstanding Business Personality Of The Year – Murari Mahale
-Most Popular Non-Veg Restaurant In Maharashtra – Hotel Durga Mata
-One Of The Best Oil Distributor In Beed – Kanhaiyya Enterprises
-Leading Solar Panel Manufacturing Company In Maharashtra – ECE India Energies Pvt Ltd
-One Of The Leading Builder, Developer & Stone Crusher Company Of The Year – Sai Srushti Builders & Developer Sai Srushti Infratech
-Most Popular Real Estate & Land Developer Company In Nashik – Saisrushti Developers(Sameer Tambat & Sonu Shinde)
-One Of The Best Makeup Artists & Beauty Studio In Pune – Sunshine Beauty & Makeup Studio
-One Of The Best Beauty Salon & Academy In Mumbai – Myra Beauty Salon & Academy
-One Of The Leading Advertisement & PR Company In Mumbai – Zone Marathi Media & PR Agency
-Best Civil Engineer In Amravati (In Planning & Execution ) – Shankra Construction (Engineers & Builders)
-Most Popular Female Fashion Photographer In Maharashtra – Madhura Kulkarni Photography Best One Of The World Leading Vastu Consultant Of The Year – Vastu Shastra Consultancy
-Leading Agro Tourisum & Water Park In Khandesh Region – (Abhilash Nagla) Nandgram Godham Agri Tourism & Water Park
-Leading Women Business Entrepreneur Of The Year – CEO of Infinity 17 Group Of Companies/Tai Foundation
-One Of The Leading Manufacturer In Skin & Hair Care Products – Prva Healthcare LLP
-One Of The Leading Software Development Company In Pune – Sidhyati Technology Solutions Private Limited
-Most Promising Civil Consultant In Satara – Dhiraj Chavan Associates
-One Of The Best Coaching Institute For Primary Standard & Competitive Exams – Gurukul Career Academy
-One Of The Best Makeup Artists & Hair Dresser In Pen – Riya's Salon Hair Beauty & Studio(Vrunda Patil)
-Outstanding Leadership In Product Growth & Innovation For Agricultural Technology Solutions – Sai Info Solution (Sujata Roychowdhury)
-One Of The Leading Sanitary Napkin Supplier Company In Maharashtra – Butterfly Sanitary Pad Enterprises Marketing Company Pvt. Ltd.
-Multitasking Business Venture In Sangli – Asif Allauddin Nandgadi
-One Of The Leading Service Provider In Repairs & Maintenance Of Commercial, Residential Building – RKPC Innovation Building Technology
-Most Leading Catering Services Provider & Event Management Company In Maharashtra – Sagar Annasaheb Dani
-One Of The Best Catering & Hospitality Services Provider Company In Pune – Manohar Caterers
-Most Secured Sanitary Napkins Selling Company & Activist In The Field Of Women's Menstrual Health Awareness – Shree Enterprises & Eternal Solutions pvt ltd
-Most Promising Service Provider In LPG Installation & Under Ground Pipeline In Maharashtra – Sai Gas Corporation
-Most Leading Steel Furniture Manufacturing Industry In Nashik – Girnar Steel Industries
-One Of The Best Lodging Services Provider In Solapur – Santosh Lodge
-One Of The Best Commercial Motor Dealer In Nashik – Sameer Pawar
-One Of The Best Lamboti Chivda Brand In Maharashtra – Hotel Sunil
-Most Popular Veg & Non-Veg Restaurant In Maharashtra – Hotel Maval Village & Hotel Kesnand Village
-Most Popular & Trusted Pathology Lab In Pune – Gurukrupa Laboratory.
-Most Trusted & Leading Financial Planning, Investment, and Insurance Company In Maharashtra – Advicrest Financials
If you have any objection to this press release content, kindly contact pr.error.rectification@gmail.com to notify us. We will respond and rectify the situation in the next 24 hours.