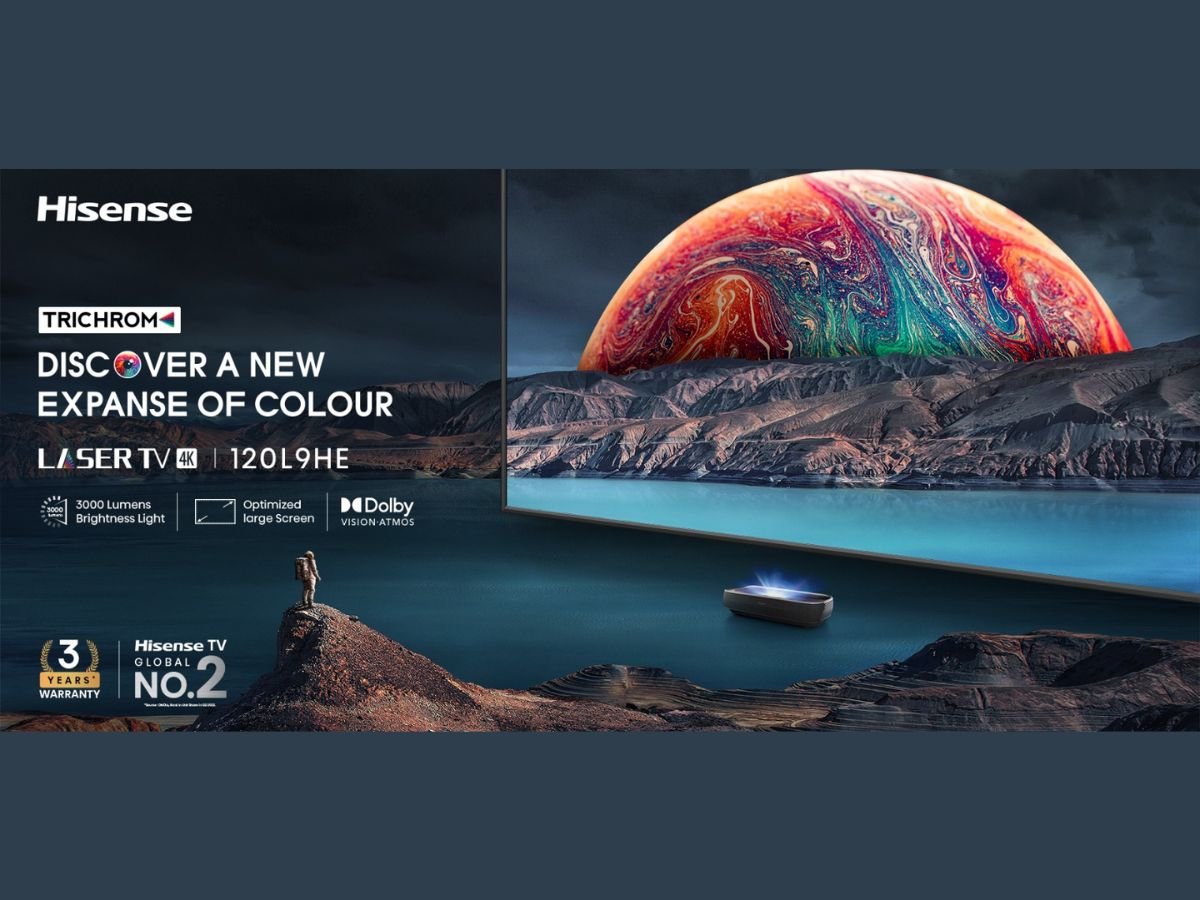 Indulge in a truly exceptional visual experience with Laser TV (Tricroma Laser technology) along with a massive 120" ALR screen, Dolby Vision, Dolby Atmos, and Filmmaker Mode for a complete Cinematic Experience.
Immerse yourself with Tornado QLED E7K Pro, featuring 240Hz HRR (High Refresh Rate) Panel offering ultra-low latency, Game Mode Pro – HDMI 2.1, AMD Free Sync Premium, ALLM, VRR for Best Gaming Experience. Additionally, Dolby Vision IQ HDR and Dolby Atmos make this TV a complete Entertainment Package.
Surround yourself with Tornado 3.0 A7K with JBL Speaker system, built-in Woofer, Dolby Atmos along with Google OS opens limitless entertainment possibilities.
Entertainment made Effortless with A6K, Google TV with 120Hz HRR (High Refresh Rate) Panel, Dolby Vision Atmos, Hands-Free Voice Control and advanced gaming features with Game Mode Plus- ALLM, VRR, eARC, etc. for richer viewing experience.
Hisense brings an inaugural launch offer providing a comprehensive 3-year warranty on Laser TV and 4 years of comprehensive warranty for the first seven days on E7K Pro, A7K and A6K with attractive launch offers from 15th July onwards.
New Delhi (India), July 13: Hisense India, a leading consumer electronics and home appliances company, proudly presents its highly anticipated range of four new exceptional televisions. This range includes the groundbreaking Laser TV, which offers an unrivaled visual experience with a 120″ Ambient Light Rejection screen with AI-driven real-time optimization. The E7K Pro is a Gaming Powerhouse with a 240Hz HRR (High Refresh Rate) QLED Panel, Dolby Vision IQ HDR, and Dolby Atmos Sound with a built-in powerful woofer. These televisions, along with the Tornado 3.0, A7K, and A6K models, offer an extraordinary "Unwrap Surprise Upgrade Life" experience. They feature exceptional visual and powerful audio experiences, AI Sports Mode, 4K UHD resolution, and much more, setting new industry standards. Each meticulously crafted model ensures an exceptional visual and audio experience, transforming the living room into a Home Theater.
The 120" Laser TV 120L9HE and Tornado QLED E7K Pro are being launched exclusively on Amazon on Prime Day Sale, while Tornado 3.0 A7K will be available exclusively on Flipkart starting from July 15th.  Additionally, the A6K model will be available in all leading E-commerce and retail stores.
Mr. Pranab Mohanty, CEO of Hisense India, stated, "At Hisense, there is a great emphasis on understanding the core of consumer insights, and our studies have identified a shift towards home entertainment in Indian families, with advanced technology, theater-like big screens, high bass with quality sound, and increased family time with home entertainment solutions. These insights have excited us to design products with cutting-edge technology, superior quality, and immersive entertainment for tech-savvy consumers. Our flagship products, Laser TV, along with E7K Pro, A7K, and A6K, are designed to deliver these needs and create an unparalleled viewing experience that brings the magic of exceptional entertainment right into the heart of their homes."
Specifications and Features:
The flagship 120″ Laser TV, the 120L9HE from Hisense, offers a truly immersive home entertainment experience. With its 120″ Massive ALR screen and features like Dolby Vision, Dolby Atmos, Film Maker Mode, and 40W powerful front-firing speakers, this TV takes sound immersion to a whole new level, providing a cinema-level blockbuster audio-video experience right in the living room. Additionally, the Trichroma Laser technology provides a 107% BT.2020 Super Wide Color Gamut for a richer color experience.
It incorporates eye protection technology with TUV-certified blue light technology, ensuring a safe and comfortable viewing experience for extended periods. Its unique design and outstanding construction aesthetics make it a true centerpiece of any room, adding elegance to the entertainment setup.
Furthermore, the Laser TV boasts over 1900+ applied patents, showcasing Hisense's commitment to innovation and advanced technologies. With MEMC technology and 4K UHD picture quality, it delivers a breathtaking 120-inch big-screen experience, providing stunning visuals with 3000 ANSI Lumens brightness. The anti-glare technology integrated into the ALR Screen blocks 85% of glare, enhancing the viewing experience even in brightly lit environments. Get ready to immerse yourself in a whole new world of entertainment with the Laser TV from Hisense.
Tornado QLED E7K Pro is the ultimate gaming TV designed to take gaming experiences to new heights. Its 240Hz HRR Panel ensures smooth gameplay, while Quantum Dot Colors provide over a billion shades of vivid color, immersing players in stunning visuals. The TV features HDMI 2.1 support, Game Mode Pro, AMD FreeSync Premium, VRR, ALLM, and a powerful built-in woofer, offering a superior gaming and TV viewing experience. Additionally, the E7K Pro supports Dolby Vision IQ and Dolby Vision-Atmos, delivering immersive sound and a captivating viewing experience. With MEMC technology and AI Sports Mode, the E7K Pro provides an unrivaled entertainment package that caters to both gamers and entertainment enthusiasts alike.
A7K, with its 120Hz HRR panel, offers an extraordinary visual experience accompanied by JBL sound, a 61W Built-In Woofer, Dolby Vision, and Dolby Atmos technology. Its precision color reproduction delivers unparalleled picture quality, while the AI Adaptive Depth and Pixel Tuning technologies further enhance the visual experience. With Game Mode Plus, AI Picture, Adaptive Light Sensor, and AI Sports Mode, the A7K TV proves to be a true entertainment powerhouse. Additionally, it features VIDAA Smart OS, an ultra-slim bezel-less design, and compatibility with various smart home platforms such as Google Home, Apple AirPlay, Apple Home, and Alexa Built-In.
A6K, powered by Google TV, brings 4K quality visuals and AI Adaptive Depth technology for an enhanced viewing experience. It supports all HDR formats, including Dolby Vision and HDR10+, ensuring stunning image quality and vibrant colors. With features like Game Mode Plus – ALLM, VRR, and eARC, the A6K delivers exceptional gaming experiences with low latency and smooth visuals. Additionally, it offers multiple voice control options, such as Far Field Voice Control, including Alexa built-in, and VIDAA Voice.
Price and Availability
These cutting-edge TVs offer an "Unwrap Surprise Upgrade Life" experience. To delight customers, Hisense has introduced a special inaugural price of INR 499999/- for Laser TV, along with a comprehensive 3-year warranty for the first seven days on Amazon. The Tornado QLED E7K Pro is priced starting from INR 49999/-, the Tornado 3.0 A7K is priced starting from INR 47999/-, and the A6K is priced starting from INR 28999/-. Additionally, there is a comprehensive 4-year warranty for the first seven days on these models.
Laser TV and E7K Pro are Amazon exclusive products, while A7K is exclusive to Flipkart for purchase. A6K, on the other hand, is available on both Flipkart and Amazon.
Amazon Link: https://www.amazon.in/stores/page/307A9E40-43AF-4074-AE9C-A7F439AD5443?channel=Press%20releas%202307
Flipkart Link: https://www.flipkart.com/ckf/czl/~cs-o5ncj4cade/pr?sid=ckf,czl&collection-tab-name=Hisense?ocmpid=brandpromo-hisensetvlaunchjuly23-press
If you have any objection to this press release content, kindly contact pr.error.rectification@gmail.com to notify us. We will respond and rectify the situation in the next 24 hours.