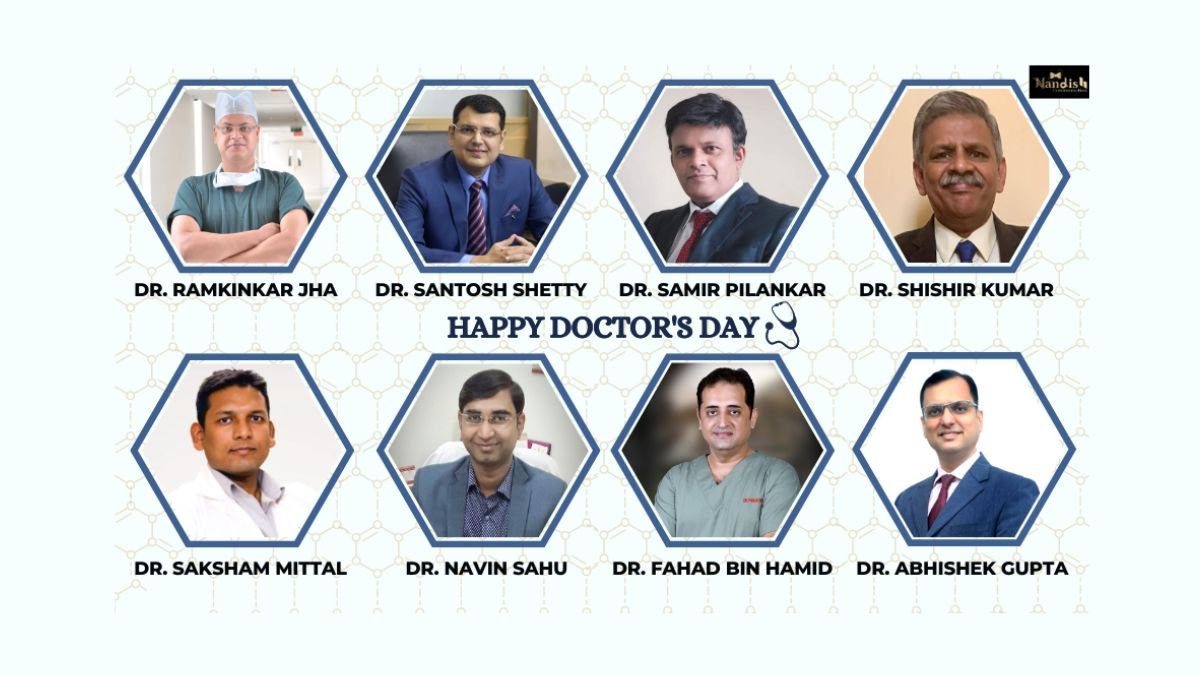 New Delhi (India), July 1: On Doctor's Day, here are some of the top 8 doctors across the nation advising how you can understand the symptoms of early-stage Osteoarthritis while preventing it.
Dr. Ramkinkar Jha, MS (Ortho, AIIMS), Chief & Head Orthopedics (III), Robotic Joint Replacement and  Sports Injury specialist – Artemis Hospitals, Delhi NCR/ Gurgaon
Osteoarthritis is an advanced degenerative joint disease caused by the wear and tear of joints. Ageing and obesity are the two most common etiologies. The knee is most commonly affected in the Indian scenario. Mild pain or swelling in or around the knee joints is an early symptom. This pain increases while walking or taking stairs and when sitting cross-legged on a hard surface/floor. Sometimes, crepitus (cracking sound) may also occur.
Deformity and limitations in bending the knee are late symptoms. A painful or swollen knee may also result from trauma, overuse injuries, or underlying other disease and should be consulted with an orthopedician. Diagnosis is usually clinical but may require a battery of tests.
Dr. Santosh Shetty, MBBS, MS (Ortho), MCh (Ortho), Robotic Joint Replacement, Criti Care Asia Group of Hospitals, Director & HOD of Orthopedics and Joint Replacement – Surana Group of Hospitals, Mumbai
Arthritis is a common condition that affects millions worldwide. It is important to recognize the signs as early intervention can lead to better management and improved quality of life. Here are some symptoms to watch out for: Persistent or recurring pain in joints, especially after physical activity. Stiffness or limited range of motion in the joints, particularly in the morning or after prolonged periods of inactivity, may be a sign of early arthritis. Swelling around the joints, accompanied by redness and warmth, can be an early indicator of inflammation caused by arthritis. Unexplained fatigue or a general feeling of being unwell may accompany early-stage arthritis. The affected joints may feel tender to the touch, and even light pressure can cause discomfort.
If you experience any of these symptoms, it is important to consult a healthcare professional for an accurate diagnosis. Early detection and appropriate treatment can help manage symptoms, slow down the progression of arthritis, and enhance your overall well-being.
Dr. Navin Sahu, MBBS, Mch (Seychelles), D. Ortho, Diploma in Orthopaedics surgeon, Om Shiv Bone Joint & Dental Clinic, Gurugram
Osteoarthritis is a type of arthritis that occurs when the flexible tissues at the ends of bones wear down, resulting in the gradual and worsening deterioration of the protective cartilage. Common symptoms of osteoarthritis include joint pain when engaging in activities such as walking up stairs, short-lived morning stiffness, joint stiffness after periods of rest, changes to the joint's shape, joint swelling, limited joint movement, sensations of joint weakness or giving way, grinding, creaking, crackling, or popping sounds, alterations in walking and movement, and difficulties with daily activities.
To prevent osteoarthritis, it is important to control weight as excess weight places more stress on bones and joints, engage in exercises that strengthen the core muscles of the body, avoid injuries, and maintain a proper diet by consuming adequate doses of vitamin D, omega-3 fatty acids, and vitamin B12.
 
Dr. Samir Pilankar, MS Ortho, DNB, MNAMS, Fellowship training – Germany, Switzerland & Spain, Senior Joint replacement & Arthroscopy surgeon, Sujay & Nanavati Max Hospital, Mumbai
Knee arthritis is a condition where the smooth cartilage, responsible for the free and painless movement of the knee, wears down and becomes rough. This deterioration leads to friction and pain. Rampant obesity, improper exercise, and neglected ligament injuries are fuelling the steep rise in knee pain among the younger population. The primary symptom of knee arthritis is pain experienced during prolonged standing and stair climbing.
When it comes to preventing knee arthritis, it is recommended to avoid running on hard concrete surfaces, weight reduction, and proper exercise. Regarding the treatment options for knee arthritis, Dr. Pilankar suggests that in the early stages, supplements like glucosamine and collagen peptide work well in conjunction with weight reduction and activity modification. However, in advanced cases, knee arthroscopy and robotic unicompartmental replacement are considered good treatment options.
 
Dr. Saksham Mittal, M.S. Orthopaedic (Gold Medalist), Fellowship in Joint Replacement and Arthroscopy, Consultant Orthopaedics – CK Birla Hospital, New Delhi
Arthritis, as the name suggests, is inflammation of the joints. Age-related arthritis is the most common type, primarily affecting the knee joints. The mean age of onset of arthritis has decreased, probably due to changes in lifestyle, obesity, and dietary habits.
The symptoms in the early stages include pain that increases with exertion, swelling, and stiffness. Early stages can be treated with medication, lifestyle modifications, and exercises. Early diagnosis is the key to preventing its progression and living a pain-free life.
Dr. Shishir Kumar, Senior Consultant Orthopedics & Spine Surgery, Metro Hospital and Jaypee Hospital Noida
 Osteoarthritis is the wearing out of the cartilage of the joint due to age, often accelerated by obesity or injury, and commonly affecting the knee. Loss of cartilage increases the friction between bones, causing pain when ascending and descending stairs, walking long distances, and sitting cross-legged. Further erosion causes persistent pain, with the appearance of swelling and crepitus (crackling sound) as the broken pieces of bone cause inflammation. The breakdown of the bone leads to a haphazard reparative new bone formation called 'osteophytes,' which impinge on soft tissues and cause further pain and limitation of movement. Continuing wear finally leads to deformity of the knee.
The diagnosis is essentially clinical, and investigations (X-ray and MRI) are required only to plan treatment. Since early intervention in the form of simple exercises, drugs, and lifestyle changes can prevent or retard the progress of the disease, orthopedic consultation should be sought early to mitigate symptoms.
Dr. Abhishek Gupta, MS Ortho, FASM (USA), FSSI (Seoul, S Korea), Senior Consultant, Arthroscopy & Joint Replacement, SHALBY Hospital, Jaipur, Director -Ortho Wellness & Joints Clinic, Jaipur
 Early-stage osteoarthritis presents with occasional pain and stiffness in joints, especially during specific activities that challenge the affected joint, along with a feeling of discomfort throughout the day. Additionally, if the patient is suffering from postmenopausal syndrome, hormonal issues can worsen the symptoms. Other factors such as age-related or senile osteoporosis, thyroid disorder, diabetes, obesity, rheumatoid arthritis, urate crystal deposition, and deficiencies in Vitamin B12 and D can further aggravate the symptoms.
In most cases, this problem can be well-managed through good physiotherapy exercises and modalities, dietary and lifestyle modifications, weight control, and treating the underlying cause. In some instances, arthroscopy or minimally invasive keyhole joint procedures are recommended, especially when the patient is young and the condral defect is focal. Nutraceuticals, viscosupplement/PRP injections can help delay surgery and provide reasonable symptomatic relief without added morbidity. The choice of treatment is individual-specific, and an experienced orthopedic doctor will guide you in selecting the best option for you.
Dr. Fahad Bin Hamid, D.Ortho, DNB (Ortho), Consultant Orthopedics, Arthroscopy & Sports Injury Specialist – Eshan Multispeciality Hospital, Bareilly
Understanding the symptoms of early-stage osteoarthritis is essential for timely intervention and improved management. Joint stiffness is a prominent sign, typically worse in the morning or after periods of inactivity. Persistent joint pain during or after movement is another common symptom, which tends to worsen gradually. Increased tenderness and sensitivity around the affected joint(s) may also be experienced, making touch or pressure uncomfortable.
Osteoarthritis can lead to a reduced range of motion, limiting flexibility and making previously easy activities challenging. Recognizing these early signs empowers individuals to seek appropriate medical guidance, adopt preventive measures, and slow down the progression of the disease. Consultation with a healthcare professional for an accurate diagnosis and a personalized treatment plan is strongly recommended when experiencing these symptoms.
On this auspicious occasion of Doctor's Day, we extend our heartfelt appreciation and gratitude to the orthopedic doctors who dedicate their lives to the field of orthopedics. Their expertise, skill, and unwavering commitment to patient care have a profound impact on the lives of individuals suffering from musculoskeletal conditions.
If you have any objection to this press release content, kindly contact pr.error.rectification[at]gmail.com to notify us. We will respond and rectify the situation in the next 24 hours.