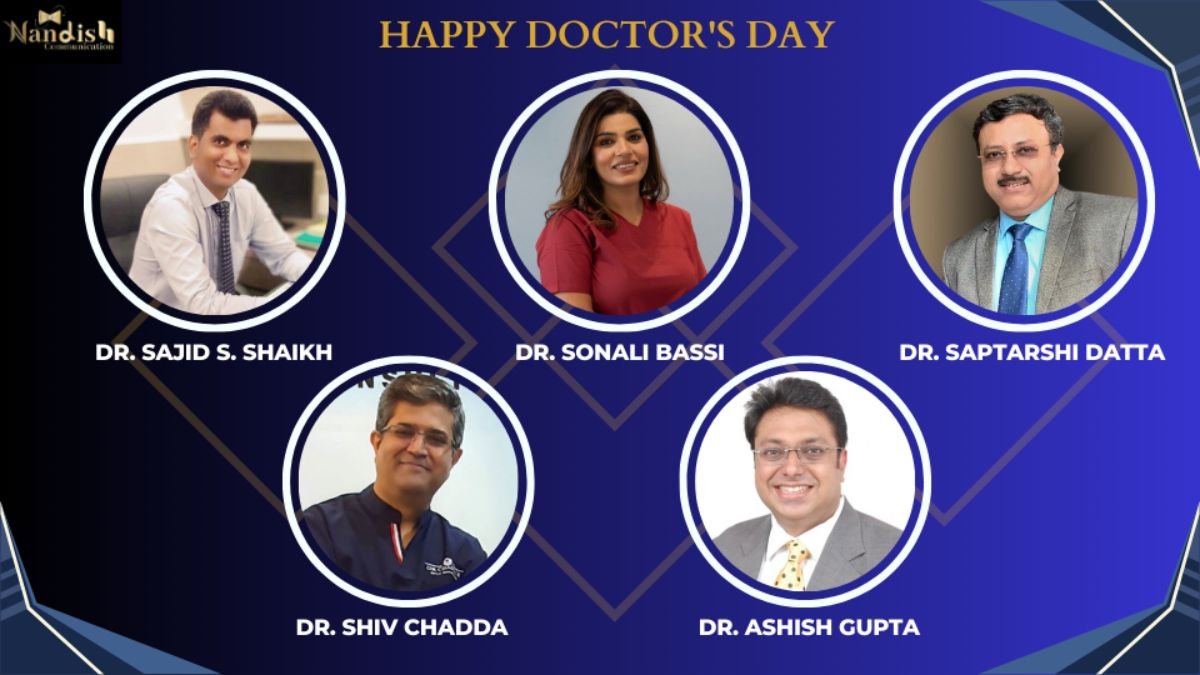 New Delhi (India), July 1: On the occasion of Doctor's Day, we bring you valuable insights and advice from dentists on maintaining excellent oral hygiene and braces treatment while sharing the impact these will have on your overall health. Dentists play a vital role in preserving our smiles, preventing dental issues, and safeguarding our well-being. Let's celebrate the dedication and expertise of dentists and embrace their wisdom for optimal oral hygiene and the treatment of braces.
Dr. Sajid S. Shaikh, (MDS), Consultant and Lecturer, Observer – Tata Memorial Hospital, Smile 4U Family Dental Clinic, Mumbai
At Smile 4U Family Dental Clinic in Kurla, Mumbai, we offer a comprehensive range of dental treatments, including orthodontic solutions like braces and aligners, to address all your dental needs. Our goal is to provide exceptional care and enhance your dental health, confidence, and facial aesthetics. With the advancement of braces technology, we can now correct dental or skeletal malocclusion and irregular teeth more efficiently, reducing treatment duration. At our clinic, we proudly use the Damon System for braces, which employs cutting-edge technology to straighten teeth with fewer complications and greater comfort. The Damon Framework utilizes a patented slide component that minimizes friction and promotes better oral hygiene by eliminating elastic ties. This enables our orthodontic experts to achieve more precise adjustments and expedite your treatment. Additionally, we specialize in clear aligners, which offer a convenient and virtually invisible solution for straightening teeth, improving your smile's appearance and functionality. Our aligners are removable and transparent and provide results comparable to traditional braces but with shorter treatment times. Trust Smile 4U Family Dental Clinic to fulfil your dental aspirations and help you achieve the perfect smile you've always desired.
 
Dr.  Sonali Bassi, BDS, Chief Consultant Surgeon, Oracare Cosmetic Dental Clinic, Gurgaon
It is wisely said, "You don't have to brush all your teeth but brush all the ones you want to keep". Maintaining consistent oral hygiene habits is of utmost importance for optimal dental health. It is crucial to brush your teeth twice a day using fluoride toothpaste and to floss daily. These essential practices should never be overlooked. If you wear braces, incorporating a special orthodontic brush or water flosser can help you effectively clean those hard-to-reach areas, preventing plaque build-up. Regular dental check-ups are especially vital, particularly during orthodontic treatment, as they allow for early detection of any issues. Professional cleanings also play a crucial role in removing plaque and tartar, safeguarding your teeth from decay and gum disease. Minimize your consumption of sugary and acidic foods, and instead, opt for a nutrient-rich diet that includes ample fruits, vegetables, and calcium. Furthermore, it is crucial to avoid detrimental habits like nail biting, chewing on pens, or using your teeth as tools, as these behaviours can cause damage and compromise your oral health. By following these recommendations and maintaining open communication with your dentist, you can achieve and maintain a healthy and beautiful smile.
Dr. Saptarshi Datta, Head of the Department – Ramakrishna Mission Seva Pratisthan (Sishu Mangal), Medicare Dental Clinic, Kolkata
Dr. Saptarshi Datta is one of the best dentists in Kolkata and Baghajatin in South Kolkata. He practices at Medicare Dental Clinic in Baghajatin, Kolkata. Dr. Saptarshi Datta completed his BDS from Dr. R. Ahmed Dental College Hospital in 1998 and advanced international studies in Surgical Implant Dentistry from the University of California, Los Angeles in 2003. With over 25 years of experience, he is recognized as the best dental surgeon and implantologist in South Kolkata. His special field of interest includes conservative dentistry (RCT, crown, and bridge, etc.), surgical extraction, cosmetic/aesthetic dentistry, surgical dentistry, and precision attachment dentures. He is renowned as the best implantologist and a top dentist in South Kolkata.
 
Dr. Shiv Chadda, BDS (Pune), Fellowship Microdentistry (Mumbai), Master Clinical Implantology (NYU), Dentist Since 1995 more than 25 Years, Dr. Chadda's Smile Dental Care, Mumbai
Maintaining oral health is crucial for overall well-being and healthy teeth. Issues like cavities, bleeding and infected gums, and missing teeth can cause problems such as improper chewing, stomach issues, headaches (TMJ), facial pains, and acid reflux. To ensure good oral health, proper self-care is vital. This includes brushing teeth at least twice a day with fluoride toothpaste, flossing between teeth, and using mouthwash regularly. A diet that includes raw fruits and vegetables, particularly in the form of salads, along with fibrous foods can help clean the teeth while chewing. It is also important to reduce the consumption of sugary and acidic foods and beverages to prevent tooth decay and enamel erosion. Regular dental check-ups and cleanings, typically recommended every six months, are essential for early detection and treatment of dental problems. Additional treatments like fluoride treatments, dental sealants, or orthodontic interventions may be recommended based on individual needs. By following these practices and seeking professional care, one can maintain optimal oral health and enjoy a healthy smile for years to come.
Prof. Dr. Ashish Gupta, BDS, MDS, DNB, Phd, MOrth RCS (Edin, UK), FDS RCS (Edin, UK), FICD, FPFA, FWFO, FICCDE, Consultant Orthodontist and Invisalign Specialist, Gupta Dental Centre -The Multispeciality Centre, New Delhi
Medical check-ups for kids should include visits to the dentist and orthodontist to align their teeth and achieve that perfect smile.
When deciding to get teeth aligned, there are important points to consider. Orthodontic treatment requires a long-term commitment, with visits scheduled once a month or every two months. Find an orthodontist who is adequately qualified, experienced, and available full-time. During the first visit for evaluation, take time to fully understand the diagnosis, treatment plan, and pros and cons of each appliance. Obtain diagnostic records like X-rays, scans, and photographs for accurate diagnosis and treatment planning. Avoid preconceived notions about tooth extraction or non-extraction and age barriers. The first visit to the orthodontist should ideally be around 7 years of age. Focus on understanding the treatment plan, costs, payment options, and retention period.
Follow instructions for oral hygiene and dietary restrictions. Maintain regular follow-up visits and wear retainers as recommended. Avoid relying on remote services without professional supervision. Treatment costs vary, so avoid comparing them between different patients. Have realistic expectations and trust the orthodontist's expertise to achieve a confident smile.
On this Doctor's Day, let us recognize and thank the dentists who tirelessly work to create healthy and beautiful smiles. Their dedication to improving oral health, their personalized care, and their commitment to patient well-being is truly commendable.
If you have any objection to this press release content, kindly contact pr.error.rectification[at]gmail.com to notify us. We will respond and rectify the situation in the next 24 hours.