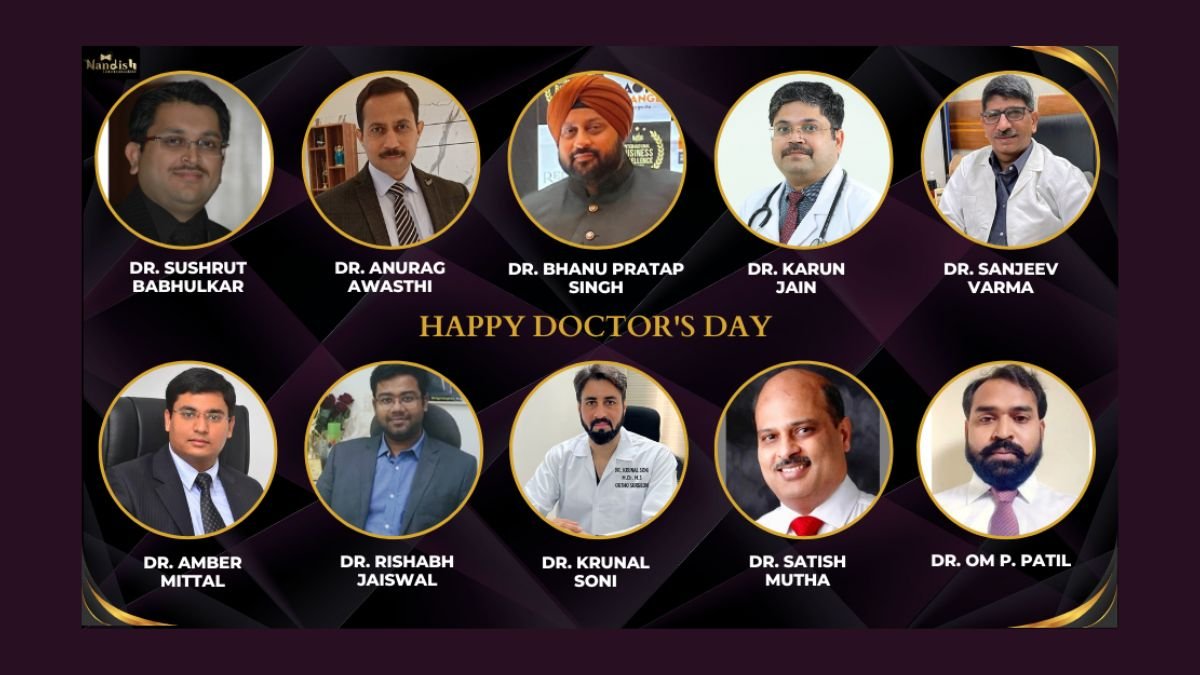 New Delhi (India), July 1: On Doctor's Day, here are the top 10 orthopedic doctors across the nation advising how you can understand the symptoms of early-stage Osteoarthritis while preventing it.
Dr. Sushrut Babhulkar, MS (Orth), MCH (Orth) (UK), Sushrut Institute of Medical Sciences, Nagpur
Osteoarthritis, a degenerative joint disease, often develops gradually, making early detection crucial. Patients should watch out for warning signs, such as joint stiffness, particularly after periods of inactivity or upon waking up in the morning. The affected joints may feel tender to the touch, and individuals might experience mild pain or discomfort during movement. Look for a reduced range of motion in the affected joint and the presence of a grating sensation or audible crackling sounds. Swelling and inflammation may occur, and muscles surrounding the joint might weaken. If any of these symptoms persist for an extended period or are progressively worse, it is advisable to consult a healthcare professional promptly for accurate diagnosis and appropriate management.
Remember, timely intervention can help slow the progression of osteoarthritis and improve patients' quality of life. Encourage individuals to prioritize their joint health, maintain a healthy weight, engage in regular exercise, and seek medical guidance for proper diagnosis and treatment options.
Dr. Bhanu Pratap Singh, MBBS, MS (O FIJR (Germany), FIJR (Scotland), FIJR (Australia and London), Chairman & Director – Ivy Pace Institute of Orthopedics and Joint Replacement, Chandigarh
Knee Osteoarthritis or degenerative joint disease of the knee, is a common form of arthritis that affects the knee joint. It occurs when the protective cartilage gradually wears away, leading to pain, stiffness, and reduced mobility. Several factors contribute to its development, including age, obesity, previous knee injuries, and genetics. The primary symptoms include pain, stiffness, swelling, reduced mobility, and a crackling sensation when moving the knee. Treatment aims to relieve pain, improve function, and slow down disease progression. Lifestyle modifications such as weight management and avoiding aggravating activities are important. Physical therapy, medications like pain relievers and corticosteroid injections, and assistive devices such as braces or canes can provide relief and support. In severe cases, surgery options like arthroscopy or knee replacement may be considered. Consulting a healthcare professional is crucial for an accurate diagnosis and personalized treatment plan for knee osteoarthritis.
Dr. Anurag Awasthi, Director- Orthopedics, Sports Injury & Joint Disorders – Kimaya Healthcare, Senior Consultant at Artemis Hospital & C K Birla Hospital, Gurgaon
Osteoarthritis can occur as early as 35-40 years of age and is more common among Indian women. Symptoms include joint pain, stiffness in hands or knees, and difficulty climbing stairs. Inflammatory conditions like Rheumatoid Arthritis or Urate Arthropathy can also cause early-onset arthritis, while Rheumatic fever or JRA can lead to arthritis in children. The condition arises from progressive damage to the hyaline cartilage of synovial joints, resulting in increased friction and pain. Timely diagnosis through blood tests and X-rays is crucial. Any persistent joint pain or stiffness lasting more than 3 weeks should be evaluated by an orthopedic specialist. Lifestyle changes, exercise, physiotherapy, and supplements can help manage early-stage arthritis; while more advanced cases may require medication, injections, or surgery for pain control and to delay further cartilage damage.
Dr. Karun Jain, MBBS, D'Ortho, MS (Ortho), MCh Ortho (UK), Senior Orthopedic, Sports Injury & Joint Replacement Surgeon, Pushpanjali Medical Centre & Shri Mahaveer Ortho Clinic, Delhi
Early osteoarthritis of the knee may exhibit symptoms such as joint pain, characterized by a dull ache or soreness that intensifies after activities like walking, running, or climbing stairs. Stiffness and limited movement may be experienced, particularly upon waking up or after prolonged sitting, although movement often alleviates stiffness. Swelling, caused by excess fluid accumulation in the knee joint, may be noticeable, and crepitus, a grating or crackling sensation, may be felt or heard when moving the knee joint due to cartilage roughening. It's worth noting that these symptoms can vary among individuals, and some cases of early knee osteoarthritis may not present noticeable symptoms. If any of these symptoms arise or knee osteoarthritis is suspected, consulting a healthcare professional is advised for an accurate diagnosis and appropriate treatment options. Adopting a healthy diet, regular exercise, and weight reduction are also key preventive measures against joint osteoarthritis.
Dr. Sanjeev Varma, MBBS, MS (Ortho), MBA (HCS), Orthopaedic & Wellness Consultant – Sanjeevan Bone, Joint & Wellness Clinic, Sr. Consultant – Fortis Hospital, New Delhi
 Understanding the signs and symptoms of early-stage osteoarthritis (OA) is crucial. OA, a degenerative joint disease primarily affecting the knee, results from wear and tear. Early detection and awareness are essential to minimize pain, slow progression, and maintain quality of life. Causes include age, joint injury, obesity, overuse, musculoskeletal abnormalities, weak muscles and bones, genetics, gender (more common in women), environmental factors, and comorbidities. Early symptoms include increased pain, stiffness after activity, limited range of motion, joint clicking or popping, and swelling. Muscle weakness, heaviness, joint instability, and a buckling sensation may also occur. Signs include tenderness, palpable swelling, deformity, and instability. As orthopedicians, we must raise awareness, emphasize preventive measures, and promote outdoor exercise, obesity management, and improved immunity, bone, and muscle strength. With 33 years of experience and an MBA in Health Care Services, I lead by example and encourage my patients to prioritize a work-life health balance.
Dr. Krunal Soni, M.Ch Ortho (UK), D. SICOT (Canada), M.S. Ortho, FIASM, FIJR, Director – Advanced Knee & Shoulder Arthroscopy Center, Consultant Sports Orthopedic Surgeon, Knee & Shoulder Expert, Ahmedabad
Early recognition of osteoarthritis is paramount to preserving the health and function of the knee joint. By identifying and addressing this degenerative condition in its initial stages, we can implement timely interventions to slow down its progression and improve patient outcomes. Remember, early detection is the key to preserving your knee joint and maintaining an active, pain-free lifestyle. At our Orthopedic Centre, we specialize in the early detection of osteoarthritis, paving the way for proactive and effective treatment. With a multidisciplinary team of experienced Orthopedic specialists and rheumatologists, we prioritize comprehensive assessments and utilize the latest evidence-based tools to identify the earliest signs of osteoarthritis. By implementing personalized treatment plans and emphasizing patient education, we empower individuals to take control of their joint health and mitigate the progression of this debilitating condition. Trust our dedicated Orthopedic Centre to provide exceptional care and help you maintain a high quality of life for years to come.
Dr. Amber Mittal, MS Ortho, Joint replacement surgeon, Apple Hospital, Indore
Osteoarthritis is the most prevalent joint disease globally, primarily affecting the knee, which is the most commonly impacted joint in the body. It predominantly targets individuals over 45 years old. Early signs of knee osteoarthritis include pain during movement, morning stiffness, limited range of motion, discomfort after prolonged sitting or lying, joint line tenderness, and swelling. The primary treatment for symptomatic knee osteoarthritis involves patient education, physiotherapy, weight loss, and the use of braces. Studies have demonstrated that a combination of supervised exercises and a home exercise program yields the best outcomes. For weight loss, controlling one's diet and engaging in low-impact aerobic exercises is the recommended approach. In cases of osteoarthritis, knee bracing can be employed, particularly offloading-type braces that alleviate stress from the affected knee compartment, especially in the presence of a valgus or varus deformity.
Dr. Satish Mutha, MS, DNB Orthopaedics, Orthopaedic & Sports Medicine Consultant, P D HINDUJA, Khar & Siddhi Clinic, Mumbai
Osteoarthritis is a complex condition that refers to age-related changes, such as wear and tear, in the joints of our bodies, which is a normal occurrence as we age. The age of onset and the rate of progression are determined partly by our genetic and hereditary makeup, and partly by our lifestyle. It is the latter aspect that we can control – our lifestyle. Let's consider the knee joint as an example. Several crucial factors contribute to the early and rapid progression of osteoarthritis, including body weight, lack of exercise, and certain occupations that involve strenuous activities for the knee. Weight loss is an incredibly effective measure, although it is easier said than done.
Engage in regular strengthening exercises for the knee muscles, which significantly reduce the burden on the joint and thus help alleviate pain. Knee replacement is the final and highly effective method for treating this condition. This procedure can be performed with the assistance of robots, resulting in faster recovery. There is no need for physiotherapy or the use of a walking stick, and patients are able to use the washroom within 12 hours of the surgery.
Dr. Rishabh Jaiswal, MBBS, MS Ortho (Sion, Mumbai) DNB Ortho, MNAMS, Fellow MUHS Joint Replacement Surgery (Nanavati, Mumbai) Fellow DMH Arthroscopy (Pune) CPCR Certified Rheumatologist HO AL Knee course RCS, Sahara Hospital, Lucknow 
In today's world, with a changing lifestyle, people are developing painful joints. Older individuals often suffer from arthritis, while younger individuals may experience joint pain due to sports or ligament injuries. Thanks to advancements in medical treatment, we can effectively address the concerns of both these age groups, achieving a high success rate with minimal pain. Modern techniques such as minimally invasive knee and hip replacements have revolutionized the treatment of arthritis, delivering excellent outcomes, small scars, minimal blood loss, and painless postoperative periods facilitated by PCA Pumps. In complicated cases, robotics are employed to ensure precision and optimal results. Moreover, arthroscopy is utilized to address ligament injuries (such as ACL and PCL tears), tendon tears (like rotator cuff tears), and shoulder dislocations (such as Bankart injuries), employing cutting-edge techniques that promote excellent outcomes and early mobilization. Arthroscopic treatment for sports injuries using advanced techniques guarantees optimal results and facilitates early recovery with minimal complications.
Dr. Om Parshuram Patil, MBBS, MS Orth, FCPS, FCISS, Consulting – Cozderm Skin Clinic, Chembur & Patil Clinic Dadar, Consultant Orthopaedic and Endoscopic Spine Surgeon, Mumbai – Apollo Spectra Hospital, Fortis Hospital, SRV Hospital & ACME Hospital, Mumbai
Early-stage spine arthritis is a reminder that our bodies are incredible, intricate systems that deserve attention and care. By embracing minimally invasive surgical techniques, such as endoscopic spine surgery, we can effectively restore mobility, relieve pain, and help patients reclaim their lives, all while preserving the delicate balance of the spine.
On this Doctor's Day, let us celebrate and express our gratitude to orthopedic specialists for their unwavering dedication to understanding and addressing the symptoms of early-stage osteoarthritis. Their expertise, compassion, and commitment to improving the lives of individuals with this condition inspire us all.
If you have any objection to this press release content, kindly contact pr.error.rectification[at]gmail.com to notify us. We will respond and rectify the situation in the next 24 hours.